Do you want to know how many local government areas there are in Osun State? Are you curious about the exact number of local governments in the state and their respective names? Or maybe you're looking for an administrative map of the area.
No matter your reason, we're here to help! In this article, we'll provide an answer to the question of how many local government areas are in Osun State. We'll also give a brief overview of the different types of local governments and some interesting facts about Osun State that you may not be aware of. So if you want to learn more about this beautiful Nigerian state and its administrative divisions, look no further! Let's get started.
An Overview of Osun State in Nigeria
Osun State is a state located in Nigeria's Southwestern region. It was created by the military junta of General Ibrahim Badamosi Babangida in August, 1991. The state has an area of 9,026 km² and is inhabited by over four million people from different tribes and ethnic groups. Osun state is popularly called the "Land of Virtue" The state takes its name from the River Osun, a revered natural spring that is a manifestation of the Yoruba deity of the same name. A significant gold resource in Nigeria and more than 40,000 tons of high-quality cocoa are produced annually in Osun State.
The major tribes inhabiting Osun State include the Yoruba, Ilaje, Oyi, Owe, Ikale, and Ilaje-Ijaw, among others. These tribes have their own unique cultures, languages, artifacts, and cuisines, which further add to the cultural diversity of Osun State.
Apart from its cultural diversity and heritage, Osun State is also well known for its natural resources. These include arable land suitable for agricultural activities such as farming, livestock rearing, and forestry. The state also has some mineral resources, such as limestone found in Ibokun town, aside from other economic activities like fishing and trade.
The Capital City of Osun State
The capital city of Osun State is Osogbo, located in the Southwestern part of Nigeria. It's the location of the government headquarters and a major commercial center for both domestic and international trade.
Osogbo is home to a number of historical sites, including the Olaiya House, where the first Governor of Osun State lived and worked. Other significant landmarks include the Osun-Osogbo Sacred Grove, Nike Art Centre, and numerous shrines belonging to local traditional religions.
How many Local Governments are in Osun State?
If you're asking how many local government areas there are in Osun State, the answer is thirty. It's one of the thirty-six states in Nigeria and is located in the southwestern part of the country. It's bordered to the north by Kwara State, to the east by Ekiti and Ondo State, to the south by Ogun State, and to the west by Oyo State. Osun State is divided into three federal senatorial districts. Each of these is composed of two administrative zones.
So what are these thirty local government areas? Here's a complete list:
Aiyedaade
Aiyedire
Atakunmosa East
Atakunmosa West
Boluwaduro
Boripe
Ede North
Ede South
Egbedore
Ejigbo
Ife Central
Ife East
Ife North
Ife South
Ifedayo
Ifelodun
Ila
Ilesa East
Ilesa West
Irepodun
Irewole
Isokan
Iwo
Obokun
Odo Otin
Ola Oluwa
Olorunda
Oriade
Orolu
Osogbo
All these LGAs make up Osun State's 30 Local Government Areas.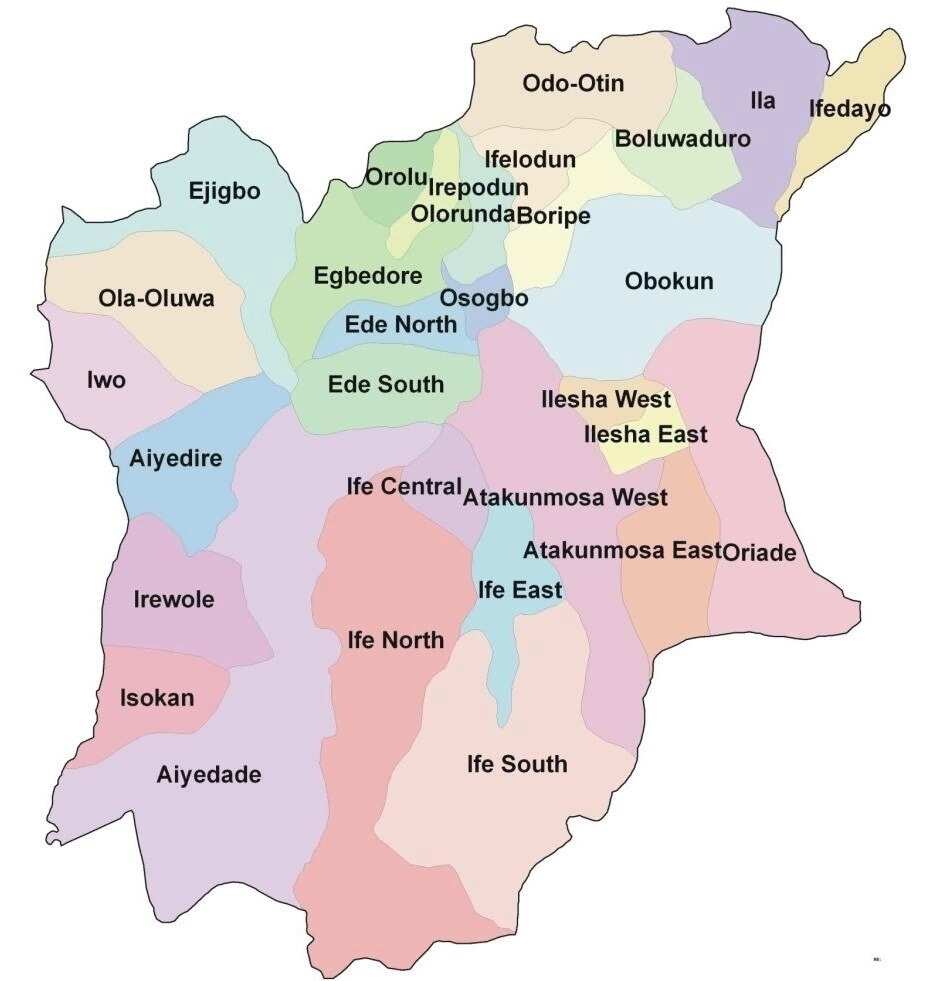 Which is the largest local government area in Osun State?
The largest local government area in Osun State is Iwo Local Government Area. Iwo, which is 45 kilometers away from Ibadan and Osogbo, covers an area of 245 km2 and has a population of 191,348 people (as estimated by the 2016 census).
Some Major Towns in Osun State
Osun State is made up of 30 Local Government Areas, and many of these have major towns in them. Here are some beautiful towns you may not have heard of:
Ilesha – Ilesha is the name of a historic kingdom (also known as Ijesha). Ilesha is ruled by a monarch bearing the title of the Owa Obokun Adimula of Ijesaland. The town consists of Ilesa itself and a number of smaller surrounding cities.
Ede – A commercial city and a center for educational activities. It is an important Yoruba town in the region of Osun State.
Ikirun – Produces agricultural products such as cassava, yam, and palm oil, amongst others. It is also a commercial center for the nearby villages.
Ile-Ife – Home to Obafemi Awolowo University and the revered seat of Yoruba traditional religion.
Ilesa East – An area of traditional rulers and important centers for commerce and culture in Osun State.
Ila Orangun – Popular for its mysterious hills believed to be inhabited by gods with magical powers; it is also home to various ancient festivals each year that attract people from all over the country and beyond!
Apomu – Home to many ancient shrines like Oduduwa's palace, where veteran hunter Ekundayo sojourned during his days in Apomu land to protect them from hunters coming from outside land while still maintaining cultural traditions.
Festivals in Osun State
Osun State has a rich cultural heritage that has helped shape the character of its people. Some of the main cultural festivals celebrated in the state include:
Osun-Osogbo Festival: This annual festival honors the river goddess Osun and takes place during the last week in August in Osogbo. It features processions, masquerades, and traditional rituals.
Ifa Festival: Ifa is a traditional religion focused on divination and spirituality. The annual Ifa Festival is celebrated across the state. The Ifa Festival is an annual seven-day event that ends on the first Saturday of June.
New Yam Festival: As with many Nigerian cultures, yam is an important crop, and the New Yam Festival marks the beginning of the harvest season. It features feasting, music, and dancing.
Olojo Festival: This festival honors the Yoruba god of iron, Ogun. It features sacrifices and ritual cleansing to seek Ogun's blessings for a prosperous new year.
Conclusion
The local government areas in Osun State each have their own unique cultural traditions that have been preserved over the centuries. The people of Osun pride themselves on their cultural richness and the bonds of community it fosters. Cultural festivals unite the people of the state and celebrate their shared history and values.
The rich culture of Osun State expressed through its various festivals, will continue to shape the identity of its people and unite them in the years to come.